A better understanding of rooibos and its health benefits
14 | 01 | 2019
After guiding you through the benefits of turmic, we would like to get up close and personal with the many virtues of rooibos. What is rooibos, exactly? Is it caffeinated? What does it taste like? What are its benefits? So many questions… And we're here to answer them!
What exactly is rooibos?
The plant
You may have heard rooibos called by its misnomer, "red tea". However, the rooibos plant is not "tea" as it does not belong to the tea family nor does it contain any traces of caffeine, making it a completely caffeine-free plant.
Rooibos is a reddish shrub-like bush with fine, needle-like leaves that grows on the mountainous slopes of Cederberg, in the Cape of Good Hope region in western South Africa. It's one of the few places where rooibos thrives, since this region provides perfect conditions: sandy soil, high acidity, no pollution, and a hot and dry climate.
Copyright : PicSnaper
Harvesting
Just 18 months after being planted, the entire rooibos bush is harvested during the summer (from January through March), when temperatures average 40 – 45°C (104 – 113°F). The leaves are cut into small sections, fermented, and then dried in the sunlight.
The taste
Prepare rooibos by steeping 1 teaspoon of rooibos in 150 ml (5 oz.) of simmering water at 90°C (195°F). The herbal tea will be red-orange in color and will have a woody flavor with notes of light and tangy hazelnut.
You can enhance its flavor with your favorite ingredients such as vanilla, almond or even verbena-mint, which all pair well with rooibos.
The many virtues of rooibos
Rooibos is a slightly sweet herbal tea that is just as tasty as it is good for you. It is highly coveted in western countries thanks to its antioxidant properties, low tannin levels, and naturally caffeine-free nature. In fact, the absence of caffeine makes it the perfect herbal tea for pregnant women. Rooibos is even more remarkable since it contains calcium, iron, potassium, zinc, and magnesium. The nutritional wealth of all these key elements and minerals will give your body a much-desired boost.
Copyright : Juste bien
Antioxidant properties
According to the South African Rooibos Council, rooibos could reinforce the body's defense mechanisms against diseases. It could also have anti-aging properties, and reduce certain cancers; however, no clinical studies have confirmed these properties.
Soothing properties
Rooibos is comprised of a high quantity of flavonoids, a substance that can have a soothing effect on the digestive system and intestinal tract.
Thanks to its low tannin level, rooibos could make it easier to get to sleep. Its soothing properties could have a positive effect on the nervous system and help with relaxation.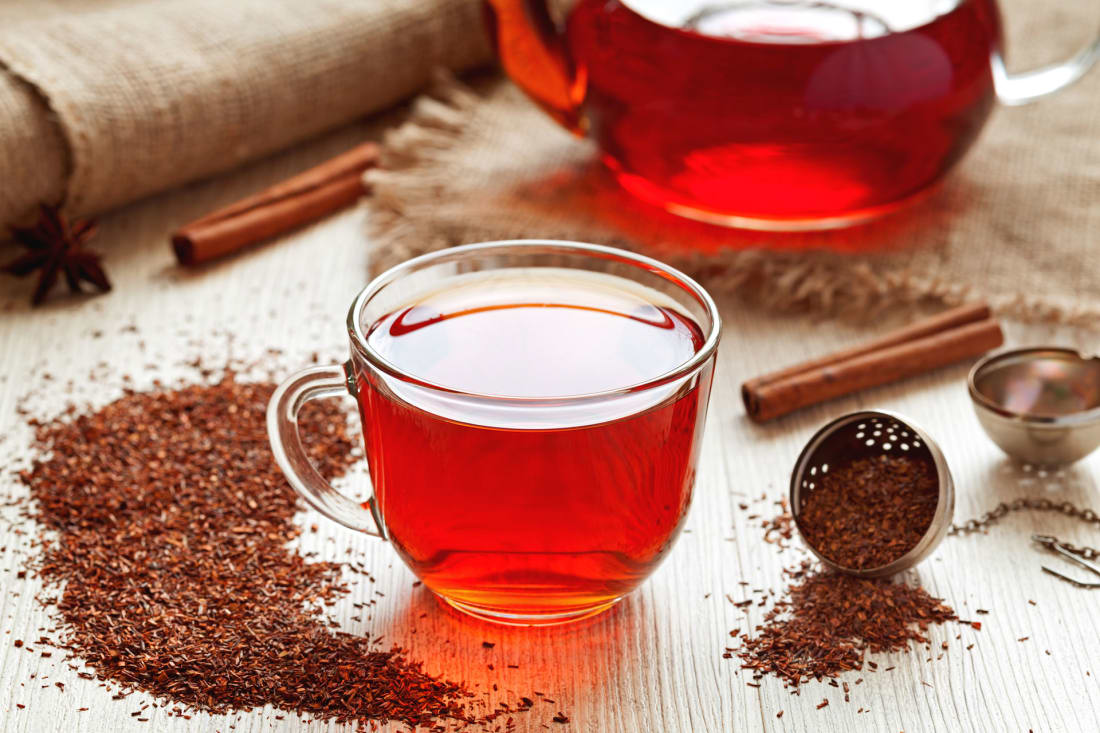 Copyright : Longevity Media
Beauty routine
Rooibos is also good for your teeth. First of all, it will not stain your teeth since it is caffeine-free. And to top it all off, it can also help prevent cavities. Rooibos contains fluoride, a mineral that adheres to your tooth enamel, making it more resistant to bacteria.
But that's not all, rooibos can also make your hair shine! To get glossy hair, The South African Rooibos Council recommends rinsing it with hot water steeped with rooibos.
The effect of rooibos on men is still being studied. To date, no negative effects have been reported. This plant's special composition makes it a great alternative to tea or coffee that can be enjoyed at any time of day!
Our rooibos-based blends
You've probably noticed… Here at Løv, we love rooibos!
Løvely Night will delight your taste buds before bed, with sweet pear notes and spices.
Winter in Løv will be your cold weather antidote with its intense spices and notes of chocolate.
Relax with Løv is Zen, and enjoy sweet caramel and tangy orange notes.
Our rooibos
For all the purists out there who love a touch of sweetness, check out all our flavored rooibos blends. There's something for everyone!
Almond and Vanilla Rooibos are a sweet tooth's favorite.
For those who prefer fresh herbal teas, we recommend trying Verbena-Mint and Pineapple-Mint.
Lemongrass-Blackcurrant, Rose and Orange-Cinnamon are deliciously strong in taste and will definitely surprise you!